The signing aims to unify the plans of the two parties, towards the common goal of establishing and building a research center to apply new technologies in digital transformation, supporting businesses in Vietnam and the region. .
After the cooperation, DTS, together with Ufin and the DTS Alliance ecosystem, will jointly plan and implement activities to create the DxSpace platform - a digital social platform that puts people at the center. In which, the orientation is to pursue an alliance strategy with partners providing digital infrastructure and technology platforms to attract and support technology startups to develop an ecosystem of applications that serve the interests of the community. Digital equality, digital society.
Ufin also recently launched the decentralized operating system Hora OS. Hora OS is a decentralized operating system built on a combination of blockchain and cloud computing platforms, aimed at managing a network of computers through a decentralized protocol.
Through the operation of node networks located on computers around the world, Hora OS manages computing resources into a unified network. Hora OS also helps optimize usage efficiency by tokenizing computer processing performance, bandwidth and storage capacity.
With Hora OS, the distributed computing network has the ability to expand space, limit and help build applications easily. Thereby, the system can be managed using a decentralized protocol, helping to optimize resources and costs, bringing high performance and efficiency. Users can access the decentralized application ecosystem easily, simply and anywhere with an internet connection.
Hora OS also possesses a multi-layer peer-to-peer server architecture model with the ability to expand the data processing network indefinitely, unifying the decentralized data network layers together through a bridge mechanism. Data (bridge) helps optimize data processing speed; At the same time, forming a peer-to-peer digital ecosystem governance model helps optimize cloud computing resources, bringing fairness, transparency and efficiency to participating parties.
Ufin of the UK cooperates with Vietnamese businesses, launching a technology platform.
Previously, Ufin succeeded in raising seed round capital from international investors with a capital of 21 million USD.
With the newly mobilized capital, Ufin said it will use it to deploy new projects, initially focusing on a decentralized server network for the Hora OS operating system to support organizations, businesses and governments in deploying model for storing and managing data on decentralized cloud computing. Currently, Ufin has successfully developed and officially launched the first version of the Hora OS operating system.
About the DTS Digital Transformation Alliance, this is a gathering place for a community of reputable businesses, individuals, and organizations operating in the fields of digital technology, digital services, and e-commerce.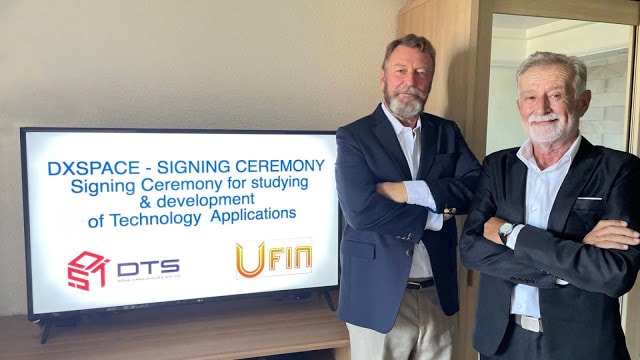 DTS and Ufin Alliance have just signed an online cooperation agreement in the context of the spread of covid-19.
To date, DTS Alliance has become a strategic partner with industry associations, media units, educational organizations and large technology companies such as: VECOM, VIA, High Quality Vietnamese Goods Business Association. , HUBA, Vietnam Today Magazine, Media One, FUNiX, IM Group, MCV Group, FTI, Interloan,...
Besides, this organization is also a strategic partner with international units such as Casugol, GMO and Ufin.
Luxurious working space, modern equipment.
"We set our operating principles in the direction of respecting, protecting and bringing benefits to customers, employees, communities, suppliers and the environment. At the same time, establishing a diverse and harmonious working environment import and use intelligence and technological capabilities to contribute to the economy," a Ufin representative shared.